Welcome to the Town of Nativity Scenes
The production of nativity scenes in Třešť belongs to the heritage of the fathers, which is passed down from generation to generation. Even after more than 200 years, this tradition still lives its rich colorful life. Convince yourself!
Nativity Scenes
Nativity Scenes Journey
Sf you want to fully enjoy the Christmas atmosphere, visit Třešť from December 26 to February 2, when the doors of almost two dozen households open to the public as part of the so-called Nativity scenes Journey. In 2015, it was registered on the List of Intangible Assets of Traditional Folk Culture of the Czech Republic.
In any case, Třešť has something to offer visitors at any time of the year. When you are dealing with Třešť Nativity Scenes, you can follow the footsteps of the now extinct Jewish community for a change. The city is also connected to personalities such as the writer Franz Kafka, the actor Otto Šimánek and the painter Jiří John. Only a few kilometers from Třešť there is the nature reserve Velký Špičák or the Gothic castle Roštejn. In the summer, you can take a dip in the local Malvíny natural swimming pool, but nearby quarries with beautiful water are also attractive.
Christmas holidays include the smell of purple, pine needles and fried carp. In Třešť, however, they are additionally complemented by the smell of moss. Did you know that thanks to nativity scenes, you can enjoy Christmas in Třešť all year round?
Are you planning a visit to Třešť? Then be sure not to miss a visit to the House of J. A. Schumpeter, where there is not only a permanent exhibition of nativity scenes, but also a tourist information center.
Nativity scenes are not the only thing you can admire in Třešť. Explore what other historical gems and natural attractions are hidden in our city and its immediate surroundings.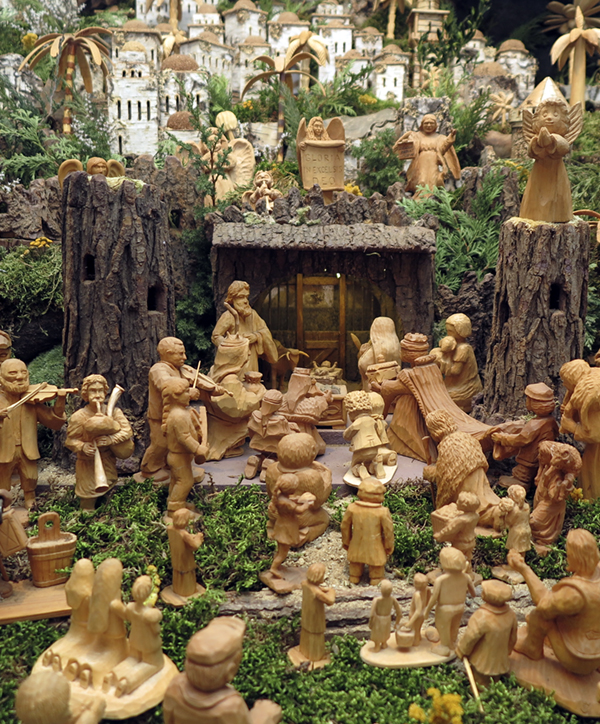 Feast of Carvers
and Nativity Scenes
There is one unique item in the permanent exhibition of nativity scenes in the J. A. Schumpeter House. It is an unpainted nativity scene, which by 2022 had over 1,300 figurines and structures. Contributions to the common nativity scene are created during the Dřevořezání, which can be called a true feast of carvers and nativity scenes. On the 5th and 6th of July, dozens of woodcarvers have been regularly meeting in Třešť since 2002, under whose hands even inquisitive tourists who are attracted to the city by the beautiful craftsmanship can take a look.
Real Buildings,
Real People
Třešť nativity scenes also reflect scenes from real life. Třešť castle, churches, Krebs Hotel, but also the old pharmacy, on whose counter the actor Otto Šimánek was born, have their place here. Among the buildings, one cannot fail to notice the renaissance Telč or the Červená Lhota castle. Presidents Masaryk and Havel, Emperor Charles 4th, thinker Jan Ámos Komenský, painter Josef Lada, as well as athletes Ester Ledecká and Martina Sáblíková come to pay their respects to Jesus.